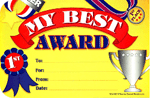 August 2005

Dear Jeremy,
Jeremy,
You are a great student with an excellent grasp of the English language. Your comprehension and diction is remarkable for your level. It is always very rewarding for me to see you enjoying my class so much. I was also really proud of you when you told me you had been accepted at St. Paulí»s Primary School. You are a naturally gifted youngster with a great future! Keep up the good work! Well done!

Dear Teresa,
Your performance has been excellent since you started at Meadow and you continue to go from strength to strength! There is no doubt that you are a gifted child with a very bright future. You have all the elements needed for an excellent learner because you are clever, inquisitive and possess an excellent memory. You are always a pleasure to teach! Well done!

Dear Priscilla,
I am always impressed with your knowledge of English even though you are only a K2 student. I have observed outstanding improvements in your speaking and listening and also in your writing, which is much neater now. You have an excellent memory and your behaviour and attitude is was way above your level. Like your sister you are an absolute pleasure to teach. Keep up the great work!
Well done!!